Keynote Speaker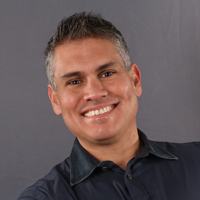 Dr. Angel Diaz
VP, Developer Technology, Open Source & Advocacy
IBM
Bio:
Dr. Angel Luis Diaz is IBM's VP for Developer Technology and Open Source. He is driven by the passion to leverage technology as the catalyst behind positive change in the world. His current mission is to empower developers to solve the world's problems smarter, faster and together. In doing so, Angel accelerates innovation grounded in open source ecosystems and social good while ensuring that IBM's platforms, services, and open source projects across Cloud, Data, AI and Blockchain are fit for purpose. This work comes together in what is known as the IBM Developer Way (developer.ibm.com and https://developer.ibm.com/code/open).
As the father of Call for Code, the multi-year global initiative that encourages developers to utilize their skills, as well as build advanced skills, to drive constructive and enduring change in the world via technological innovation, Dr. Diaz contributed to the architecture for rapidly mobilizing talented developers to deliver human centric, globally responsible solutions. In addition, Call for Code helps foster a sense of community among developers worldwide; thus, fostering a positive community constructed on a solid, ethically sound foundation. Along with industry colleagues across technology landscape, Dr. Diaz is also part of an IT renaissance driven by open source code, community and culture. Enabling innovations that are built on simple, practical solutions in the arenas of Cloud, Data, and AI are Dr. Diaz's specialty, and he has been the driving force behind many industry movements. Over the past 4 years, Dr. Diaz has played a pivotal role in the creation of Open Stack, Cloud Foundry, Node, jQuery, Open Container Initiative, Cloud Native Computing, Open Data Platform (Hadoop), Spark and Open Ledger (Blockchain) Foundations, as well as a variety of others.
Dr. Diaz's focus areas and professional drive are deeply rooted in his experience working in IBM Research, as a key player in the creation of core web standards in use today (HTML, XML, Web Services). Additionally, he served as IBM's VP of Cloud Technology and Architecture where he was responsible for the technology, architecture and implementation strategy behind IBM's Cloud for Data and AI. This included the delivery of a consistent worldwide cloud experience complete with data centers across private and public topology. Focused on client success, the sole purpose of this initiative was to deliver clients a new way to work with choice and scale. This fundamental understanding of the needs and capabilities of technology, his success in leadership, as well as a client focused approach has provided Dr. Diaz with a unique perspective of the ways in which business opportunities manifest from technological innovation provided we all stay grounded on effective delivery, results, and client success. In other words, vision without proper execution is simply hallucination.