06/14/2017 05:00:00 am
Company Contact:
Violet Lieby
831.425.8063
vlieby@evansdata.com
Non-industrial Commercial Deployments Top Developers' IoT Targets
SANTA CRUZ, CA. June 14, 2017. More developers (57%) working on Internet of Things projects are targeting deployments related to commercial but not industrial implementations than any other type, according to Evans Data's recently released Internet of Things Development Study. These include implementations such as healthcare, ecommerce, retail and finance. The survey of 840 developers worldwide who are actively working on Internet of Things projects also showed that 52% were targeting consumer directed implementations such as connected home, consumer wearables, transportation, and so on, while 43% target industrial deployments. Many of the categories are not mutually exclusive and developers could select as many as applicable. On average developers selected 1.4 categories.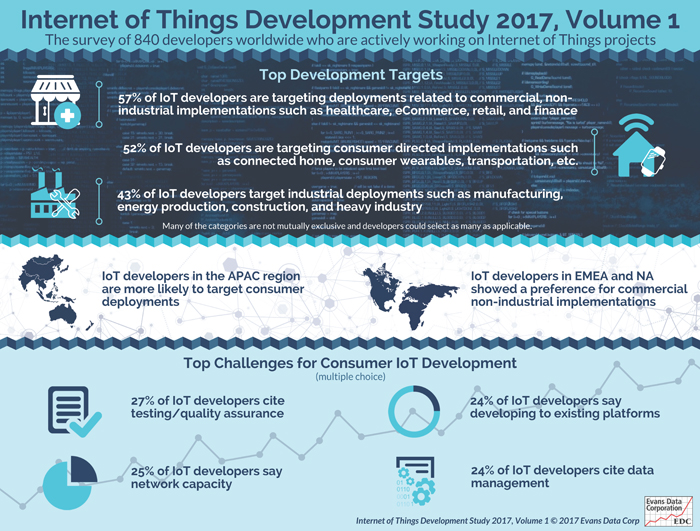 Those developers in the APAC region were more likely to target consumer deployments, while those in EMEA and North America showed a preference for commercial non-industrial implementations.
"Just a little while ago when we looked at IoT targets the field was dominated by industrial implementations," said Janel Garvin, CEO of Evans Data. "Today we don't see less industrial targeting, but what we do see is more awareness, excitement and thus targeting towards other categories of IoT implementations. This is a natural sign of the whole IoT development industry evolving and becoming more mature."
A drill down into the popular consumer category showed that primary targets are: business to consumer ecommerce, entertainment/infotainment, security and surveillance, and connected home / home appliances.
Evans Data Corp's Internet of Things Development Study is part of the continuing Internet of Things Vertical service which is published year round studying developers working on internet of Things projects and their applications. It covers a broad range of aspects including:, The IoT Landscape, Demographics, Firmographics, Platform Adoption, the IoT Development Lifecycle, Complementary Technologies to IoT, Technology Adoption and more.
See the complete Table of Contents and Methodology here: Table of Contents
About Evans Data Corporation
Evans Data Corporation provides regularly updated IT industry market intelligence based on in-depth surveys of the global developer population. Evans' syndicated research includes surveys focused on developers in a wide variety of subjects.
Copyright 2017 Evans Data Corporation. All other company names, products and services mentioned in this document are the trademarks and property of their respective owners.
###