Benchmarking, Awareness, and Share of Voice
For any business to grow, increased awareness is needed. To understand how to improve awareness, foundational information is required to clearly define who your audience is, their current perception of you, and how they perceive your competition.
Evans Data Corporation offers a comprehensive benchmarking and awareness service that provides actionable answers to these questions. It defines:
What your current customers think and feel about your product offerings.
How aware your target market is of your offerings.
Your presence in the market as compared to others.
Your overall strengths and weaknesses and how they compare to your key competitors.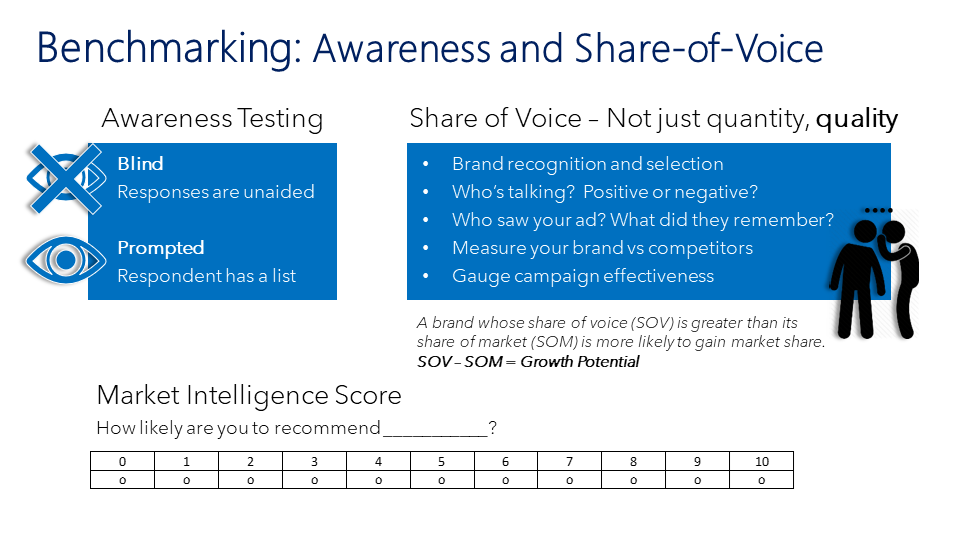 Awareness testing shows where you are within the mindscape of the customer you are trying to attract. It points to what you need to adjust for your marketing to make an impact. It can be combined with a share of voice measurement to find out if customers are talking about your product or if they remember seeing your ads or other promotions. This is often combined with NPS scoring to measure the nature of the awareness and how positively or negatively your company are perceived.
A benchmarking study is a more comprehensive competitive research approach that drills down into your competitors' strengths and weaknesses as well as your own. It highlights what it is about competitors that make them score higher or lower than your business and the relative perceived strengths and weaknesses of your offerings against similar offerings. These insights provide a roadmap for improving your offerings to gain market share.