10/04/2017 05:00:00 am
Company Contact:
Violet Lieby
831.425.8063
vlieby@evansdata.com
Augmented Reality Being Embraced by Two-Thirds of Mobile Developers
SANTA CRUZ, CA. October 4, 2017 Augmented reality is currently being incorporated in some form into apps from 44% of mobile developers, while another 30% are evaluating or testing AR in their piloting and prototyping projects, according to a new Evans Data survey of over 600 mobile developers.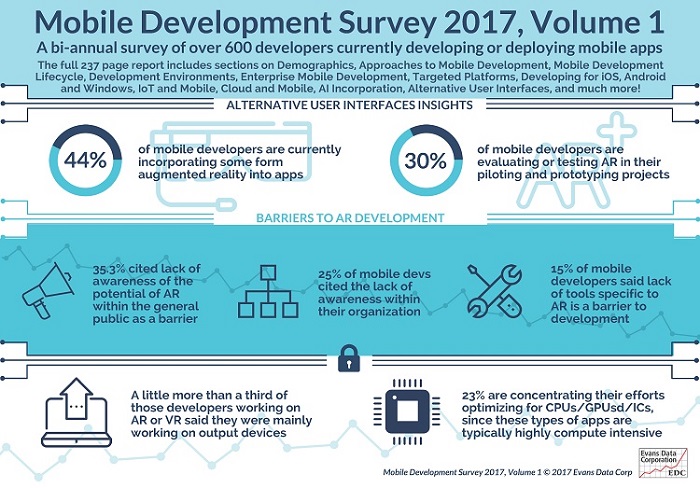 Although AR has numerous uses and adoption is steadily climbing, developers complain about awareness as being a major challenge in developing or piloting an augmented reality app. The plurality, 35.3%, cited lack of awareness of the potential of AR within the general public as a major hurdle, while an additional 25% cited that same lack of awareness within their organization. Lack of tools specific to AR was the biggest challenge for 15%, while less than 5% said that a lack of expertise was their biggest issue.
Hardware is a consideration in developing augmented reality and virtual reality apps. A little more than a third of those developers working on AR or VR said they were mainly working on output devices, while 23% are concentrating their efforts optimizing for CPUs/GPUsd/ICs, since these types of apps are typically highly compute intensive.
"There are thousands of ways that augmented reality can be used to make the world more interesting and accessible through mobile devices," said Janel Garvin, CEO of Evans Data Corp. "But the only way to really exploit the potential of AR or VR is through a robust developer community that is asking new questions and trying new things."
The new Mobile Developer Survey, now in its 17th year, is a survey of developers currently developing or deploying mobile apps. It provides a margin of error of 4%. The full 237 page report includes sections on Demographics, Approaches to Mobile Development, Mobile Development Lifecycle, Development Environments, Enterprise Mobile Development, Targeted Platforms, Developing for iOS, Android and Windows, IoT and Mobile, Cloud and Mobile, AI Incorporation, Alternative User Interfaces, and much more!
See the complete Table of Contents and Methodology here: Table of Contents
About Evans Data Corporation
Evans Data Corporation provides regularly updated IT industry market intelligence based on in-depth surveys of the global developer population. Evans' syndicated research includes surveys focused on developers in a wide variety of subjects.
Copyright 2017 Evans Data Corporation. All other company names, products and services mentioned in this document are the trademarks and property of their respective owners.
###