11/07/2017 05:00:00 am
Company Contact:
Violet Lieby
831.425.8063
vlieby@evansdata.com
Ninety-three Percent of Developers Involved with Software Evaluations
SANTA CRUZ, CA. Nov 7, 2017 Software developers are involved at all levels of the software purchase process, with 43% often involved with evaluating software and 50% sometimes involved. Only 7% are never involved according to the recently released Evans Data Global Development Survey, a comprehensive survey of developers worldwide conducted in six languages this fall.
Just over 50% spend between 1 and 4 hours evaluating software, not including time spent on downloading, installing and configuring the software – a task that takes between five and 30 minutes for 70% of the developers in the survey. Developers in the EMEA region spend the least time on their evaluations, with 29% spending less than an hour, while North Americans spend the most time.
"Developers are crucial to software use throughout an organization," said Janel Garvin, CEO of Evans Data, "They are looked up to as experts and often find themselves evaluating software for line of business units as well as their own tools and platforms."
Good documentation is critical in the evaluation process, with sixty percent citing that as one of the first few things they look for. A clean startup experience without any bugs is also something developers look for, and that is especially true in North America.
The new Global Development Survey, now in its 19th year, is a worldwide survey of developers focusing on a variety of technologies. It provides a margin of error of 2.8%. The full 224 page report includes sections on Demographics, Platforms, Mobile Development, Cloud development, UI and UX development, Artificial Intelligence and Machine Learning, Software Evaluations and Purchasing, High Performance Computing, Development Lifecycle, and much more!
See the complete Table of Contents and Methodology here: Table of Contents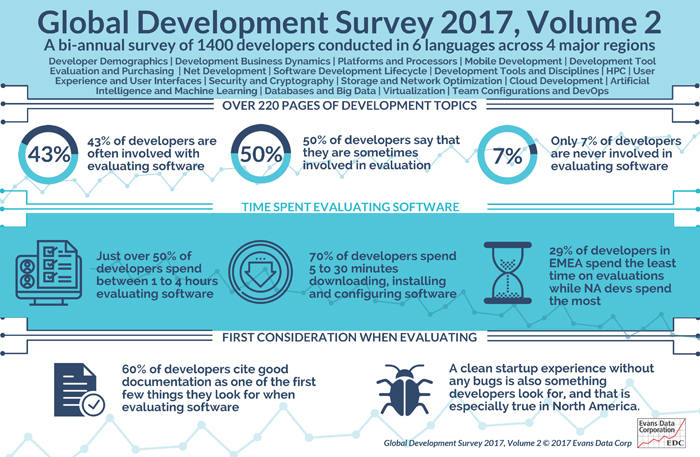 About Evans Data Corporation
Evans Data Corporation provides regularly updated IT industry market intelligence based on in-depth surveys of the global developer population. Evans' syndicated research includes surveys focused on developers in a wide variety of subjects.
Copyright 2017 Evans Data Corporation. All other company names, products and services mentioned in this document are the trademarks and property of their respective owners.
###